St. Andrews State Park
Thanks to the hard work of Friends of Shell Island members and affiliates, the Florida Park Service has written into their updated 10-year management plan for St. Andrews State Park that the plan will NOT:
Close off any portion of Shell Island
Lead to development or enforcement of any new regulations intended to limit historic public access and recreation at the island.
Limit or restrict public access to the wilderness preserve portion of Shell Island in any way.
Please thank Marine Industries Association of Northwest Florida, the Bay County Chamber of Commerce, Jay Trumbull, Don Gaetz, and our representative officials from the Bay County, Panama City, and Panama City Beach!
Background
Last year, the state park side of Shell Island was included in the update of a written plan that directs how the park is managed for the next 10 years. Thanks to your efforts, we defeated many proposed regulations that would impact enjoyment of the island, but two new regulations were implemented anyway: new "management activity" 50 feet around the island's shores, and the designation of the western end as a "wildlife preserve."
While these regulations were greatly reduced in impact due to your pushback, they nevertheless made it into the plan and have the potential to be abused in the future to restrict our access and hurt tourism.
Before plan approval, Friends of Shell Island partnered with Marine Industries Association of Northwest Florida to oppose the regulations. MIANWF coordinated with the Bay County Chamber of Commerce, the Panama City Community Development Council, Representative Jay Trumbull and Senator Don Gaetz, and the governments of Bay County, Panama City, and Panama City Beach to communicate our community's overwhelming opposition to these regulations. Their efforts brought about the clarifying document that states there will not be future restrictions to our island!
At Friends of Shell Island's request, the state permanently included this wording at the beginning of the official 10-year plan that is the blueprint for managing the island. We will reference it in any future responses to proposed new restrictions.
We would like to thank Marine Industries Association, the Chamber of Commerce, and our tourism and elected representatives at the state and local level in making this happen!
The entire plan with new document on page 5 is here: http://www.dep.state.fl.us/parks/planning/parkplans/StAndrewsStatePark.pdf
Here is the excerpt from the new document specifically referencing Shell Island: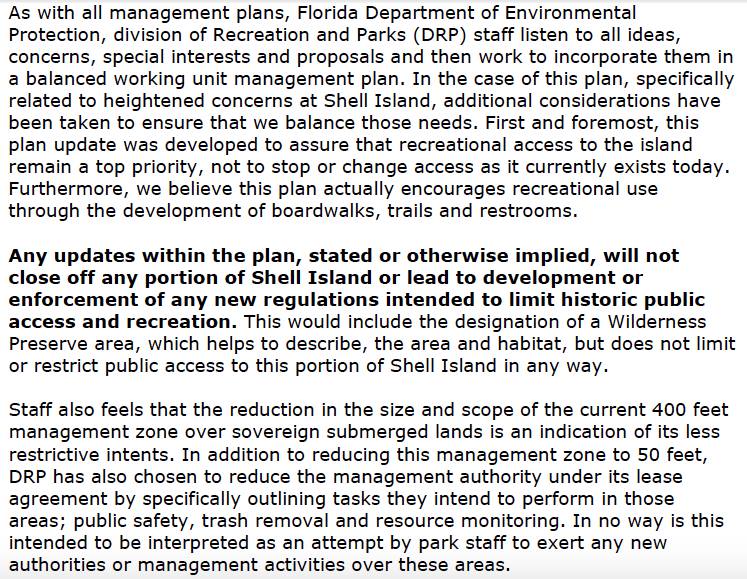 Friends of Shell Island gains support of statewide boating advocates Standing Watch
Update May 10, 2016:
Thanks go out to our Florida Representative, Jay Trumbull, our Florida Senator, Don Gaetz, the cities of Panama City and Panama City Beach, the Bay County Chamber of Commerce, the Tourism Development Commission, Panama City's Community Development Corporation, Marine Industries Association of Florida (along with 37 area businesses) and St. Andrews Bay Yacht Club all have come out in support for our historical access to Shell Island, the jewel of Bay County.
They communicated their support for boater access - and opposition to new, unjustified regulation - in the April 22 meeting of the final state committee to approve the St. Andrews State Park 10-year management plan. While the committee approved the plan despite opposition to some of its features, the regulations are limited:
- The park gave itself authority into the water 50 feet, but only to restrict access to prevent a "risk to public safety." Park personnel do not have law enforcement authority.
- The western part of Shell Island has been declared a Wilderness Preserve, but the park has repeatedly promised that this designation will not change your access or recreational activities.
- The park indicated they would work with us moving forward to better understand the community's needs and concerns. We will be involved.
- At Senator Gaetz's request, the park service answered our specific questions in writing about these regulations.
Thank you for what we have achieved!
- The park wanted to extend all park rules into the water. They did not get that. This means park rules about alcohol, dogs, etc do not apply in the water or on wet sand at the island. This preserves the historically recreational usage that citizens have enjoyed for generations.
- The park wanted the plan to restrict access to the Wilderness Preserve area to day use only, only around the shoreline, and only for limited use. They did not get that.
- Bird enthusiasts called for outright restriction of boater access to Shell Island. They did not get that.
- We have requested formally that the park and Audubon Society cease their biased study of boaters at the island which was designed to blame boaters for nesting harm. We will keep you informed of the status of this issue. Please report to us any suspect activities.
What you can do next:
Please bring your camera, phone, GoPro or any other device every time you are at Shell Island. If a government-related person engages you in an effort to restrict previously-enjoyed activities, please ask their name, agency, what they are doing and why. Record it and provide it to us.
Thanks for your continued efforts, which have made a huge difference for access to the island that belongs to the people.
---
Update April 4, 2016: Newly provided state document describing Wilderness Preserve restricts recreational access. In addition to tracking the state's moves to control our waters, Friends of Shell Island has been asking for two months for the policy document defining a "Wilderness Preserve" and the restrictions imposed on visitors in it. We asked for this document FOUR TIMES over two months. In their proposed "management plan" for St. Andrews State Park and the western half of Shell Island, the park service designates 470 acres of the public's land (and almost four miles of pristine coastline) as a "Wilderness Preserve."
They have repeatedly and continuously assured all who inquire, that this designation is simply symbolic, and will not impact anyone's use or access to the island. They withheld the Wilderness Preserve document from us until all their public input and advisory group meetings were over. Then they released it.
The document is the Bureau of Land Acquisition and Development Policy Manual, Memorandum #6, "Wilderness Preserves", and it states that a Florida Wilderness Preserve requires "stringent protection", and in it, uses are to be "limited and passive in nature", and that "motorized vehicles and motorized boats are normally permitted for control purposes only."
The map of their proposed regulation can be found
here
.
---
UPDATE March 21, 2016: The park has to update a "management plan" that sets a 10-year strategy for running the park, and they have requested input from the public about what you think of Shell Island and how you enjoy it. The park is proposing a new regulation out into the public's waters that would give them "management authority" over boaters 50 feet out into the waters around the entire park (including Shell Island bay and gulf sides). They have said that they will close these waters to boaters if they determine there is a risk to the safety of park visitors. This decision would be completely at the discretion of park management, and could be used to patrol us and make us leave Shell Island for just about ANY reason! They have not identified any problem the authority would solve; it overlaps the responsibilities of existing agencies; and these new "management activities" would happen at the expense of Florida taxpayers.
The authority is so broadly-defined, it could be interpreted to mean almost any control they would like to have over area boaters at the island.
They still plan to designate the entire western half of Shell Island as a "wilderness preserve" but have removed proposed restrictions on recreation there.
Friends of Shell Island has strongly opposed this regulation.
On Sept. 1, 2015 the Bay County Commission voted to oppose additional regulation. Here is Friends of Shell Island's original input to the park's plan for Shell Island.
Friends of Shell Island has also:
Reported that the state park, along with the Audubon Society, is performing a bird study that is intentionally designed to blame boaters for low fledging rates of the birds. This study is flawed because it uses Audubon Society members - whose stated goal is to reduce boater access to the island - to fill out the study forms using subjective judgements about whether boaters are the cause of "disturbance" to birds they are watching. Friends of Shell Island has asked the park to halt this study immediately and discard the data.
Reported that in performing the flawed study, Audubon and state park personnel are surveilling visitors to the island with high-powered lenses, which is unprofessional, distrespectful and an intrusion of privacy. Friends of Shell Island has asked the park to halt this practice immediately.
Here is Friends of Shell Island's letter to the park Advisory Board March 17, 2016 on these topics.
More news coverage of these topics:
WJHG Commissioners Against State Regulation on Shell Island. Sept. 1, 2015
News Herald Editorial: Is Government Addicted to Shell Island Intervention? August 27, 2015
Boaters Blast Shell Island Plans August 25, 2015
WMBB New Regulations May be in the Plans for St. Andrews State Park Aug. 24, 2015