About Us
Friends of Shell Island, Inc. is a tax-deductible non-profit advocacy group based in Panama City, Florida. Our mission is to protect our access to the island we love, conserve its resources, and educate the public about its beauty in order to preserve its place in our lives and in the lives of the visitors who come to Bay County to experience it.
Shell Island is a pristine barrier island off the coast of Panama City, Florida that has been treasured by Bay County residents and visitors for over 100 years as a unique getaway destination. It is the jewel of Bay County for citizens who live here, and it is one of the top attractions for visitors who come here and contribute to our economy.
Over half of Shell Island is under the control of St. Andrews State Park, within the Florida State Parks System.
Shell Island Belongs to the People
"Shell Island belongs to the people, to treasure for generations to come. The people have a voice that must be heard."
New! January 9, 2015
State Park to Update its 10-Year Management Plan
Shell Island Could be Affected
The St. Andrews State Park owns the western half of Shell Island and a portion of the residential lots in the subdivision in the center of the island. The park has to update a "management plan" that sets a 10-year strategy for running the park, and they have requested input from the public about what you think of Shell Island and how you enjoy it. PLEASE SEND THEM YOUR INPUT by January 23, 2015. Click here for an easy form to submit your input.
State Park Clarifies its Jurisdiction
Update! March, 2013
In the past two years, there have been numerous incidents in which citizens have been told there was some type of "400 foot" boundary in the waters around Shell Island. Friends of Shell Island requested and received a written clarification in which the State Park System has confirmed that no such jurisdiction exists. So if a visitor is told that park rules extend out into the water, this is simply not true. If it happens to you, please contact us so that we can notify park management. They told us that all the state park and FWC employees are notified of this clarification, so no one should be told differently.
Click here to read the full letter (PDF format).
We also learned in this process that the State Park can put additional regulations on our waters through their "unit management plan" that will be updated in 2014. The public will be asked to input to this plan. Please join Friends of Shell Island to be kept informed of how you can participate so your voice can be heard.

Listen to Our Debut on FM Talk 101.1!
Listen to Friends of Shell Island's debut on Talk 101.1 Radio's Burnie Thompson Show.

Click Here for Part 1: The shocking events of the summer of 2006 which revealed that the boaters' vision for the future of Shell Island might be on a collision course with that of the State of Florida, when 14 people were arrested for violation of rules they did not know existed, and certainly didn't feel were needed.

Click Here for Part 2: The charter and mission of Friends of Shell Island, who seek to protect their generations-old access to this island. Boaters in Florida are under siege by encroaching regulations. Access to cherished waterways and anchorages is being restricted. Shell Island was purchased with taxpayer money for the benefit of the taxpayers. Friends of Shell Island's goal is to preserve that access.
Contact Us
Email: info@friendsofshellisland.org or 850-624-3219
Goals
Conserve the nature of Shell Island through education and on-site activities.
Obtain an active voice in the management of the Spanish Ante Subdivision in the center of the island.
Obtain an active voice in the management of any areas of Shell Island that must fall under the State Park rule system.
Obtain an active voice in the management of the sections of Shell Island owned by Tyndall Air Force Base and the US Coast Guard.
Tyndall Waterway Discussion on the Derrell Day Show. March 7, 2014
Part 1 (click to download MP3 audio file)
Part 2 (click to download MP3 audio file)
Our Counter-Proposal
Friends of Shell Island has created a counter-proposal to Tyndall's proposed waterway restrictions that we believe protects the base while better preserving boater access. Click here to read the counter-proposal:

Tyndall Waterway Restrictions Counter-Proposal (click to view)
Background
This past summer, our members discovered that some new local waterway restrictions were going through the Federal approval process, and alerted us. We made all members aware, and after reading the proposal many boaters felt the restrictions were overly stringent, and made their voices known. Thanks to citizen uproar, Tyndall announced that they would withdraw the proposed waterway restrictions! The story is HERE. We thank Tyndall AFB for listening to the citizens and for giving Friends of Shell Island an opportunity to weigh in.
Why We Were Formed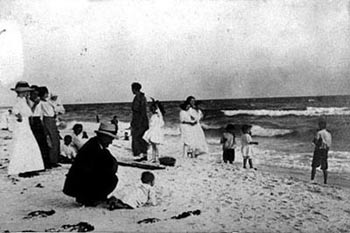 Shell Island was peacefully enjoyed and protected by citizens and visitors for generations, until the summer of 2006, when the State of Florida stationed armed policemen on the island to arrest people who were unwittingly violating an array of unnecessary and unwanted Florida State Park rules. Such rules include consuming a beer or having a dog in an unauthorized area. The unfortunate actions caused a citizen uproar. Since then, we've been working with park officials who have implemented citizen-friendly policies and have expressed an openness towards working with us.
Who We Are
Friends of Shell Island is a tax-deductible non-profit (501c3) advocacy group made up of area boaters, tourism interests, island property owners, marine industry advocates, local citizens and others who seek to preserve our recreational access to Shell Island as the getaway that we have enjoyed for generations.
Corporate Members
Bayside Marina / Captain Anderson Marina / St. Andrew Bay Ferry / » Click to View List
Become a Member!
Become a Member of Friends of Shell Island! You will receive valuable information about what is happening at Shell Island and what our organization is doing. Please join and help make a difference, securing access to our treasured island.


Sign the Petition
Privacy Statement: Your address is required only for the purpose of establishing the validity of this petition. It will not be sold or used for purposes other than confirmation to you and presentation of this petition as part of the governmental processes regarding this issue.
Petition for Boaters' Access to Shell Island
To: Officials of Bay County Florida, the State of Florida, Tyndall Air Force Base, and any other regulatory authority
Sponsoring Organization: Friends of Shell Island (www.friendsofshellisland.org) Date: March 20, 2009
Whereas, boating residents and visitors have been enjoying Shell Island as a year-round recreational destination since Bay County was settled in the 1800s; and
Whereas, the most popular boating anchorage is at the center of said island, at a residential subdivision which is comprised of private and government-owned lots, overlaid by county roads; and
Whereas, this boating anchorage is treasured by the undersigned taxpayers, whose money paid for the public land for their recreational use; and
Whereas, in 2006 visitors to Shell Island experienced aggressive police attempts to enforce unnecessary and unwanted State Park rules both within and outside of land owned by the state of Florida;
The Undersigned Request:
An official acknowledgement of the historical use of the recreational boaters' anchorage at Shell Island;
Preservation of the current state and use of Shell Island for recreational boaters;
Preservation of the current management of the property consistent with the laws of unincorporated Bay County – NOT as a State Park.
A stakeholders' interest in any future decisions about the use of the Shell Island.
Map of Shell Island and Our Traditional Recreational Anchorage
Map of Spanish Ante Subdivision